Easy Whole30 Egg Roll In A Bowl
This post may contain affiliate links. View our disclosure policy here.
I've been wanting so much to do some recipe posts but I wasn't sure what to start with in addition to being a little weary of how to go about using the recipe plug in I have for the blog! But I made this recipe recently and it was such a hit (even for my son who doesn't like cabbage) that I just knew that Egg Roll In A Bowl was the one to start with!
Whole30 Recipe for Egg Roll in a Bowl
Egg Roll In A Bowl is a quick easy version of the Asian dish most of you are familiar with! It's a Whole30 meal packed full of flavor! This one skillet meal calls for a number of ingredients to achieve the full flavor, but I'm sure most of you will find them pretty easy to acquire and it's a cinch to throw together! As you'll see in the recipe below, ingredients call for ground beef (or other meat choice), coleslaw mix, garlic, ginger, onions, broth, coconut aminos, pepper, red pepper, salt, sesame oil, and apple cider vinegar. It's SOOOOO delicious!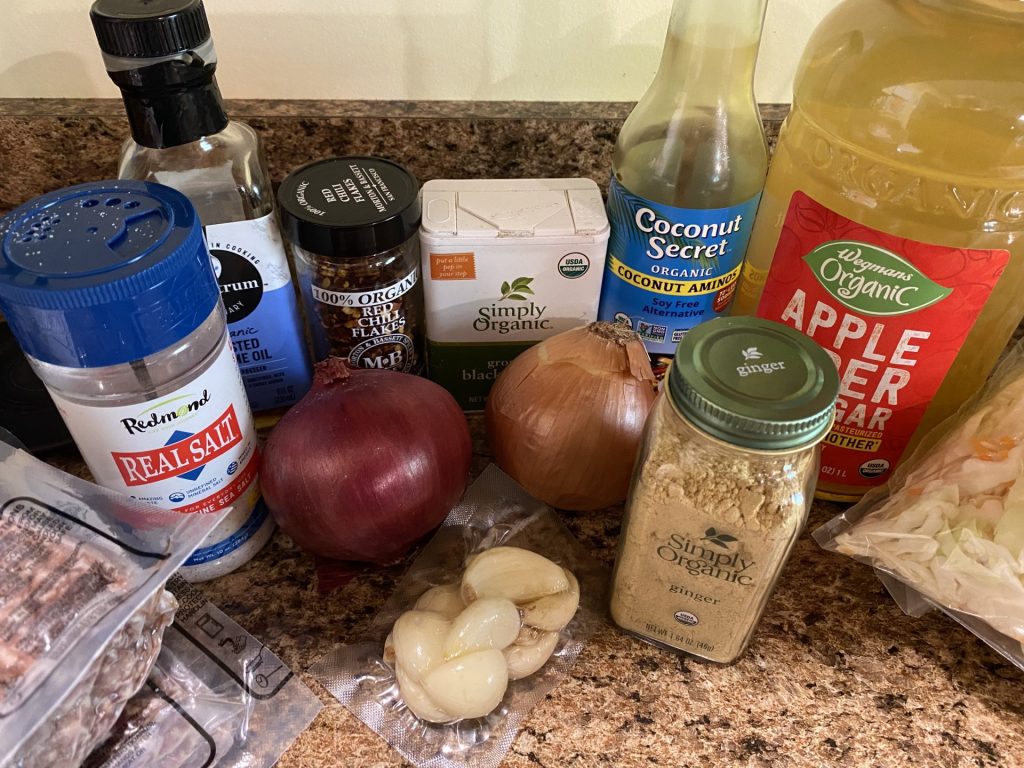 Why Whole30?
I haven't talked much about Whole30 on the blog yet or that my family essentially avoids gluten. None of us have celiac disease, but we do have some gluten sensitivity (some of us more than others). For this reason and other health benefits, we tend to eat a primarily paleo type diet and a lot of Whole30 recipes. We do a complete and extended (about 50 days instead of 30) Whole30 at least once a year. But we use the Whole30 recipes quite often.
AIP Diet?
If you are wondering if you can eat this if you are following an AIP diet, the answer is YES! There's just a few omissions you will need to make. This is, of course, dependng on whether you have successfully added any of the ingredients. The ones to omit may include the red pepper, black pepper, sesame seeds. The sesame oil may easily be substituted with coconut oil or avocado oil for healthy options.
Why Is It Called Egg Roll?
The traditional Asian recipe is for an item called Egg Rolls. But WHY is it called an egg roll? There's NO EGGS! Well, traditionally, they are wrapped in a 'egg roll wrapper' which does contain eggs. They also contain wheat (gluten) which is the main reason for having Egg Roll In A Bowl- to have the delicious flavor without the gluten. Some people do elect to throw in an egg at the end of the recipe and sort of scramble it into the meal- a lot like egg fried rice, I guess. I haven't ever tried that with mine but I have considered it. It's so very good without though that I don't want to mess with awesome! LOL! But you can certainly try it if it really appeals to you!
My Recipe
My recipe is sort of a combination of two separate recipes I found through two separate sources and my own tweaking.
I start out with our grass-fed beef from a local farmer! Most Egg roll recipes call for pork but my husband doesn't eat pork so we opt for the beef. It can easily be made with ground chicken or ground turkey as well.
I chop the onions between a fine and larger dice, varying up the sizes. Then I add the spices, broth, oil, coconut aminos, etc.
I add the coleslaw. I love that my local store sells the packs of coleslaw that is nicely shredded but not too fine. It makes this such an easy dish to throw together! Of course, if I can't find the bags, I could just buy cabbage and carrots and shred them together in my food processor or use a hand grater.
Once all put together, I really like to let the cabbage wilt. My son isn't into crunchy cabbage and if I let it wilt enough, he LOVES this dish!
Let me know what you think when you try it! Of course, you can add or subtract spices to your personal liking.
Easy Whole30 Egg Roll In A Bowl
Course: Dinner
Cuisine: Asian
Difficulty: Easy
This Whole30 Egg Roll in a Bowl is a easy one skillet meal, healthy and bursting with flavor!
Ingredients
2 lbs. ground beef (turkey or pork may be substitutions)

2 lbs. coleslaw mix (shredded cabbage with carrots)

6-8 cloves garlic

2 tsp powdered Ginger

2 medium onions, chopped

1/2 cup beef broth

Coconut Aminos (to taste)

1 tsp black pepper

1 tsp sea salt (to taste)

1 tsp red pepper flakes (omit for AIP diet)

2 Tbsp. Sesame Oil (substitute coconut or avocado oil for AIP diet)

3 Tbsp. Apple Cider Vinegar
Directions
Cook meat in a large skillet or pot until browned.
Add onions and sesame oil. Cook on medium high heat until onions are translucent and starting to brown.
Reduce heat to medium.
Add garlic, ginger, salt, pepper, red pepper, vinegar, and broth to the pan. Stir well.
Add coleslaw mix. Stir to mix. Continue to stir frequently on medium heat until cabbage wilts to desired texture. (I like to put a lid on the pot for a few minutes and really let it wilt down0
Add coconut aminos to taste.
Serve as is or over rice or cauliflower rice.
Garnish with green onions, extra ginger, coconut aminos, sesame seeds and/or red pepper flakes.